>Lots of things are happening this month for our family! First and biggest thing is that Jeff will be traveling away from us for a few days to Chicago to eBay Live! In case you don't know what that is, it's a huge convention that eBay does every year for their users. We're sad that we're going to be away from each other for a few days, but I'm so pleased at the same time beacuse this shows that Jeff is highly respected for what he does at work, to be asked to represent your department is no small honor! Of course, he's the only one qualified -in terms of knowledge- in his department to go, but still. And my buying sprees on eBay helped since you have to have a minimum of 25 positive feedback, and we're around 30 right now. Heehee. However the good news that's coming from all of this is that my Dad is coming out to visit while Jeff's gone! I'm so excited to be able to see my dad again, he was able to come last Thanksgiving and be here for Zoe's birthday, which was great! This will be his first time seeing his other grand-baby Ruthie so we're all pretty excited about that too. Ruthie's at the perfect age now where she's not just a lump on a log anymore, she smiles and babbles and blows raspberries at people.
With that said, here are some new pictures!
Here's Ruthie eating cereal. You can't tell but she LOVES eating rice cereal. If I don't feed her fast enough and she knows there's more, she starts screeching and grabs at the spoon. She'll even growl at it a bit too! So cute!
Here's a better view of Zoe's haircut. The expression on her face is a bit funny looking since she's not looking right at the camera but it's still a good view. I think she looks so grown up and pretty with her hair like this.
This probably one of my favorite pictures of Ruthie to date. She chews and sucks on her fingers and is quite partial to her right index finger. She fell asleep with her finger in her mouth and I JUST had to take a picture of it!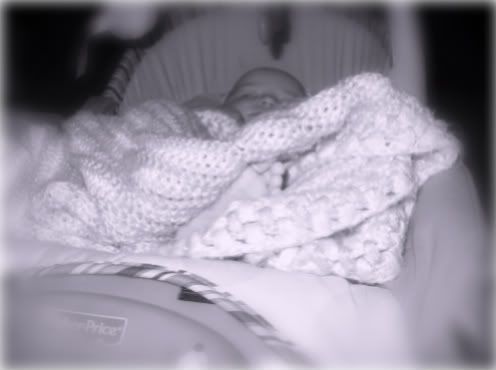 This is a focal picture on her foot sticking out from her blanket. I the color by first applying grey tone to the picture and then I did a slight purple tint on it and then blurred the edges. I love how this came out and I think I did a good job on the angle, and really capturing her foot as the focal.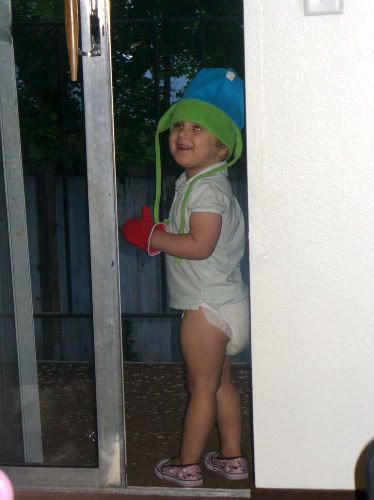 I think this really captures Zoe's resourcefulness and ingenuity. She wanted to 'play outside' and since we have a very large balcony we often let her play on it so she can get her outside wiggles out. We do take her to the park and stuff, but as you can tell it was getting dark so we just opened up the patio door so she could play outside. It was a bit chilly; as a result you can see Zoe's solution to the problem. A pair of shoes -she even managed to get them on the right feet this time- a hat and two mis-matched mittens. It totally cracks me up that she forgot the most important piece of clothing; that is to say PANTS.