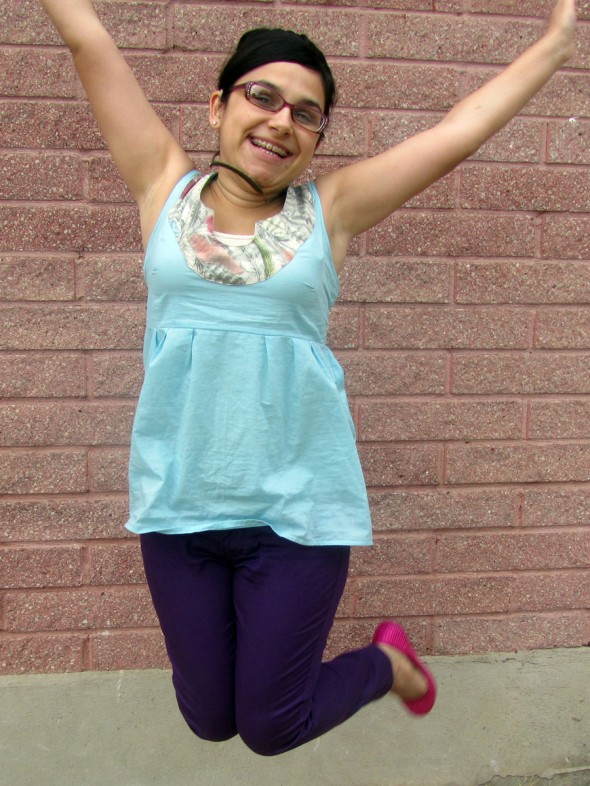 One of my biggest pet peeves is that once I realize I'm doing something wrong, and I'm unable to do anything about it, I get irritated with the situation. In this case, I was irritated by the fact I had to wait until Thursday to get a bra I purchased from eBay in the mail.. so I did some online exploring to see what my local department stores had to offer. After perusing briefly through the websites, I concluded that Dillard's would be the best place for me to hit. So I left Ruthie and Oscar with my friend and ran over to the mall. I tried on EIGHT bras this time, and came home with three! Here's a brief rundown.
Three of the bras were full coverage. The brands I tried on Whimsy by Lunaire, and two Modern Movement bras. The Whimsy was unlined and was too wrinkly due to it being a full coverage. The Modern Movement bras were full cups… which confirmed that I need to STAY AWAY from full cups due to my shape. They were TOO full coverage so I had a difficult time determining if the wrinkling I was seeing was caused by the cups starting too high for my stature, or the cup shape or a combination of the two.
The bra that I almost got was made by Wacoal, and was an unlined cup as well. I decided to not get it after pulling on my shirt over it and saw it was basically saying "I have a lacy bra on, look at the amazing texture!" I wasn't exactly wanting to call unneeded attention to my breasts.. It was rather interesting though, because of how perky it made me look. Overall the bra was made with a lacy mesh, but on the inside, there was some stiffer fabric that was in place to give lift and perk. I liked the concept quite a bit, but the lacy texture was too much. Maybe it was the shirt I was wearing today, I don't know. If it had been a smooth texture, I would have bought it.
The three bras I DID get are these:  b.tempt'd by Wacoal, Calvin Klein Customized Lift, and Calvin Klein Strapless Customzied Lift *.
*The 8th bra I tried on was actually the strapless bra in a 32DD. I had that sucker on for 2 minutes and realized it was incredibly tight. I toyed with the idea of getting it and just letting it stretch out, but after wearing it for 2 minutes and then taking it off, I already had red marks! So I went and scoured the rack for a 34D.. and luckily there was one! I tried that on and it felt so much better. And guess what, look of my breasts were the EXACT same! So I can verify that going up a band/down a cup (or vice versa) within the exact same brand/style is 100% correct!!
Now, you're wondering about price, right? Both of the CK bras were $16.10 each, and the b.tempt'd was $14!! The CK bras came off the clearance rack, and the b.tempt'd bras are currently marked down (but not on clearance rack) due to some sale Dillard's has going on right now. If you're thinking of going to get new bras this week, Dillard's is the place to go if you have one nearby! I did ask the gal what was their largest cup size that they carry in stores, and she informed me US H (UK FF) so if you find that you're above that in cup size, then I wouldn't try Dillard's. I saw at Nordstrom Rack they went up to a US K, so consider going there (if you have one locally) or Nordstrom if you need a size larger than what Dillard's offers.