So, Monday was mine and Jeff's seven year wedding anniversary. Yay us! Earlier this year we decided to go to Las Vegas to celebrate.. well I decided and Jeff went along so I'd stop asking him. We left Saturday, and got home last night.. and let me tell you that is NOT ENOUGH TIME. It didn't help that Jeff hurt his foot and was limping around the whole time we were there either. But I think we still managed to have a good time. Here's some pictures (duh)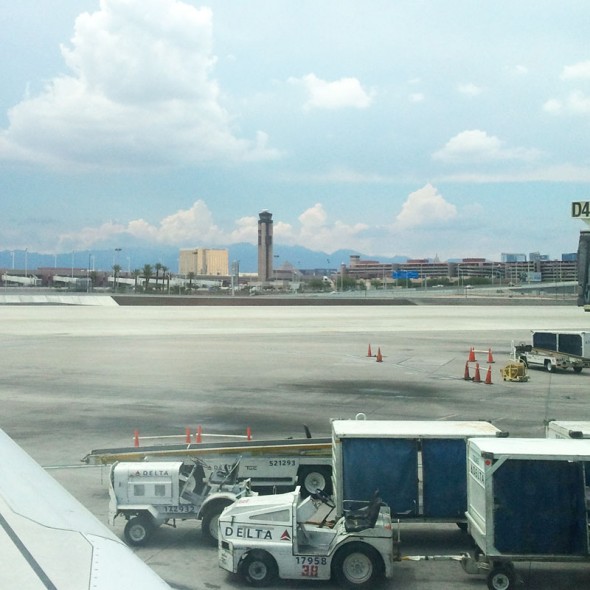 What's amazing is that the airport is within view of the strip and vice versa! We were still on the plane when Jeff took this picture. If you look at the grey and black tower, to the lower right of it, you can see the top of a pyramid. That's the Luxor, where we decided to stay at. It's pretty exciting knowing I could see our hotel from the airplane and that our trip was ACTUALLY HAPPENING. Since apparently, it didn't sink in when I was in the plane going to Las Vegas…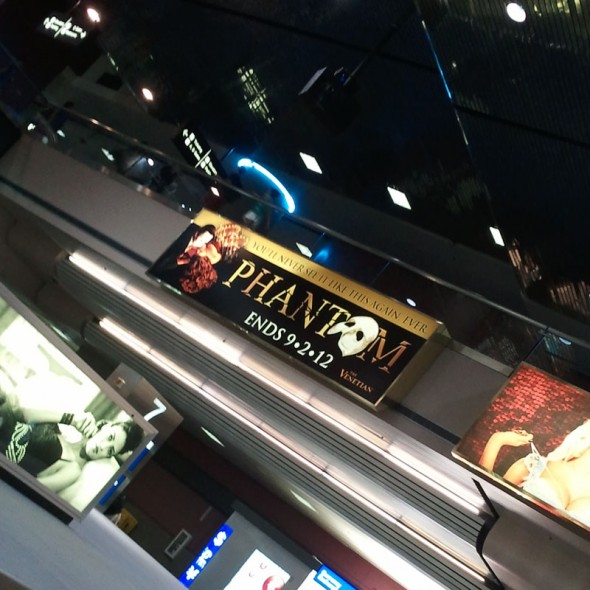 So this was one of the first things we saw when we landed at the Las Vegas airport. Of course, I had to take a picture! After riding on the longest escalator we've ever ridden on, and getting our luggage, we were able to catch a shuttle to the hotel. There's this company that offers round trip deals, so of course we did that; since you save money by doing so.. and trust me saving money in Las Vegas isn't easy. Do it however you can!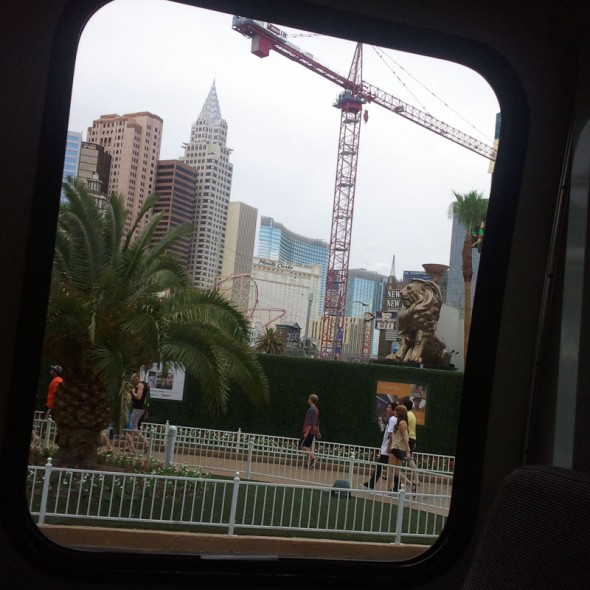 While in the shuttle on the way to the hotel, I was snapping pictures; this was one of them.  I was wondering why there was a giant crane on the strip, but we later found out that there's going to be a giant Ferris Wheel that's essentially going to be bigger than The Eye in London.. it's going to be restaurants or something.. not entirely sure. (I found an article here about it.) I guess according to the article they are building two.. this is the second one that's in the article. It's really nifty, and I can't wait to go back to Vegas to see it completed.
So anyway we get to our hotel, and once we got into the main lobby, you can really tell that you're inside of a pyramid shaped building: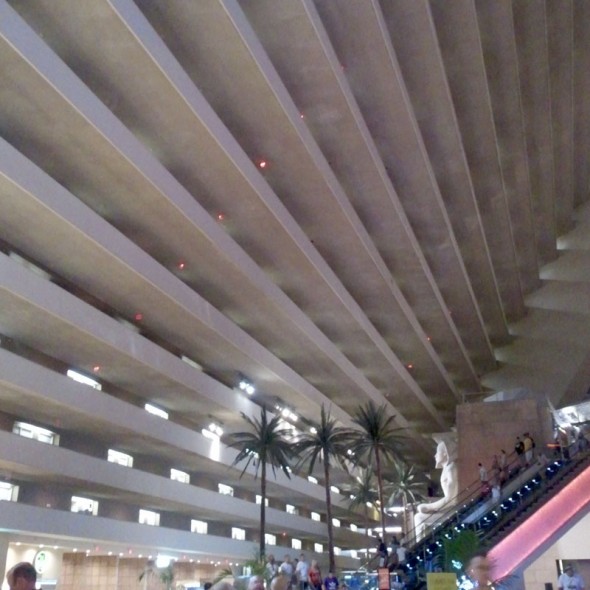 Each floor gets smaller and smaller as they go up, and the balconies aren't over each other. It's insane.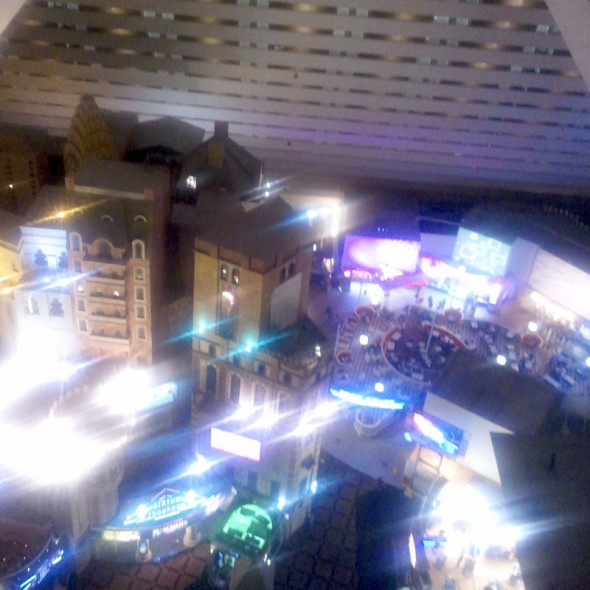 We requested a high room, and let's just say… we kept daring each other to stare over the balcony. The Luxor has 30 floors, and we were on the 26th floor. Every time you looked over the balcony, your stomach would literally drop, and if you looked over while moving..  you're risking losing your lunch. Even then, the view was pretty amazing.
We didn't think to take pictures of our room -woops- but it was amazing. and HUGE. But here's a picture of the view from the sitting area window.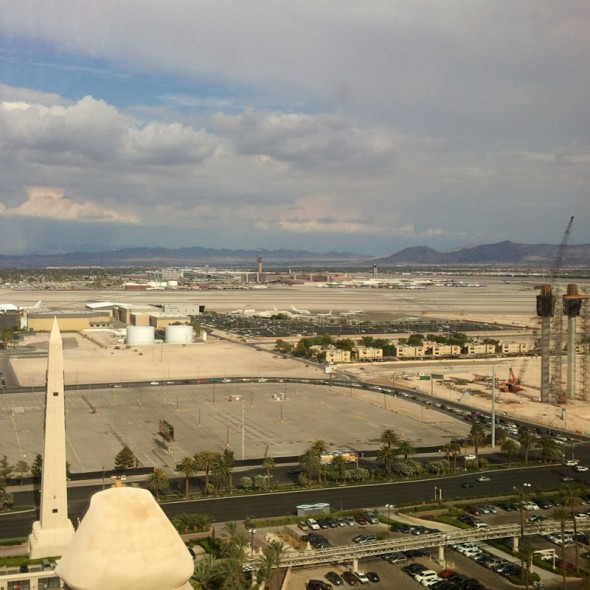 Again you can see the Sphinx and Obelisk that are in front of the Luxor, and then you can see the airport. Jeff took this picture, mainly to get the view of the airport from our room. He really liked seeing the planes take off and land. And then on the right side are the large supports for the giant Ferris Wheel.
After getting settled into our room, we decided we were hungry so we went and noshed at the buffet. Which was all sorts of delicious. Jeff discovered right before we left that he really likes clams, so between us we ate probably 5 dozen. We ate other stuff.. crab legs, and I had tamales and several different types of salads, and fruits. After dinner we decided to walk the food off by going on the strip, and to walk to this kiosk that provides half priced tickets for various shows the night you buy them.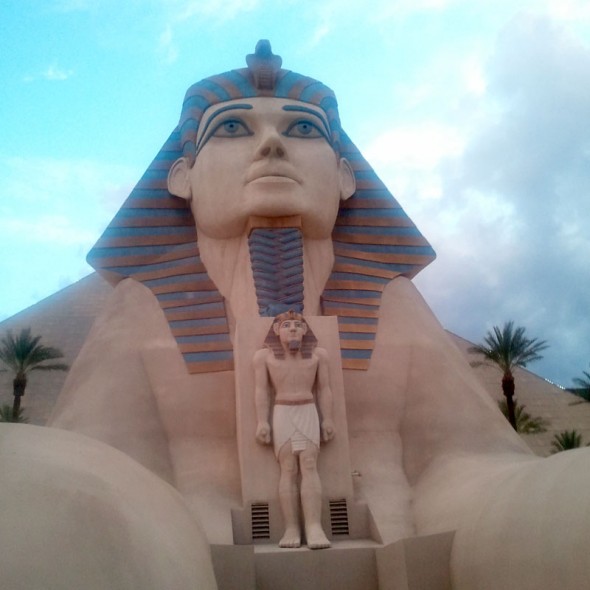 This is the front of the Sphinx that's in the previous picture; there's a walk through coming from between its paws, or front legs.. or arms. Whatever. You can see in the lower part of the previous picture there's some type of track; that's a track that goes between Mandalay Bay, then the Luxor, and then Excalibur -in a south to north direction. We only rode it once, and that was to the Excalibur, so we could start walking on the strip. We eventually found the kiosk, and  purchased tickets for a show, and then continued up the strip to figure out where to catch a taxi. We eventually were able to pick up a taxi in front of Paris Hotel and Casino.. which was about a mile of walking. Jeff doing this in cheap, brand new flip flops ended up screwing his left foot up for the rest of the trip.
We get to the Stratosphere, which is where the show was. We enjoyed icecream cones before the show, which were yummy. The show we caught is called "Bite" which is essentially Vampire Rock Opera. That involved topless dancers. We managed to even score front row seats.. here's how front row we were: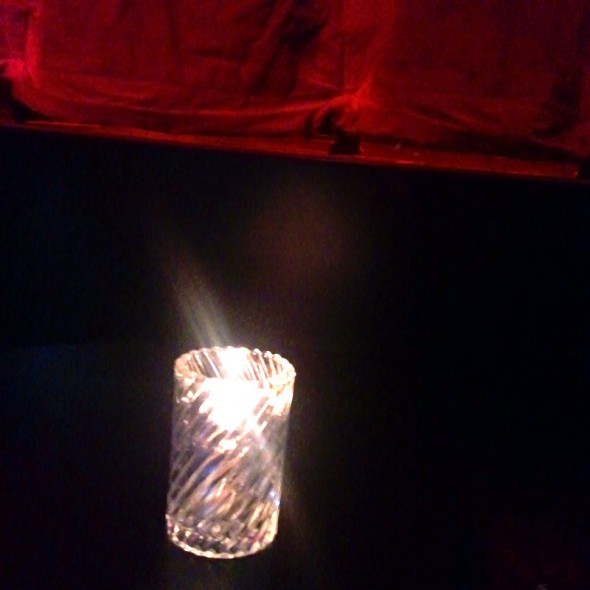 That's the candle on our table, and you can see the stage right behind it. Considering that there was topless women, it was good entertainment. It's not really something you'd go see for the storyline, but there was a singer that was pretty good, and there was some amazing choreography, which included one of the girls doing some amazing ribbon dancing. We've seen it before on TV and our reactions were always "meh." but to see it in person.. it does not compare.
After the show, the audience had a chance to do a photo-op with the cast. So of course we did that.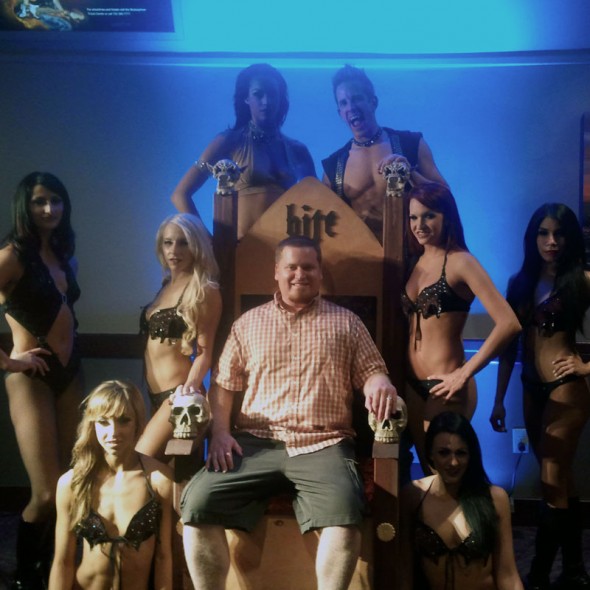 Unfortunately, my picture came out horrifically blurry, which was due to the fact that we didn't think to take our actual camera, and Jeff took the picture; he's not all that great at taking pictures. Oh well, live and learn I suppose. We actually made this mistake pretty much the whole trip until Monday night.
After the show, we took a taxi back to our hotel and relaxed in the jetted tub that was in our room. I'll just leave it as that. *wink*
More to follow later!