I know it's been forever since I blogged about our first day in Vegas.. unfortunately I had a technical difficulty and  I've now been able to get the chance to finish blogging about the trip.
So we woke up the next morning and went down to eat breakfast at McDonald's. Let me just say, McDonald's in Vegas is way more expensive than it is anywhere else, especially when the McDonald's is in the food court area of a hotel. After breakfast we went exploring a bit and at that point Jeff's foot was getting to the point of interfering with walking, so we went to Ross and he was able to find a nice pair of Doc Martens and a pack of black socks for a great deal. We managed to score some cheap tickets for two shows on Sunday, so after buying Jeff shoes, we had to rush back to the Excalibur, to claim our tickets for The Tournament of Kings.
AND. IT. WAS. AWESOME.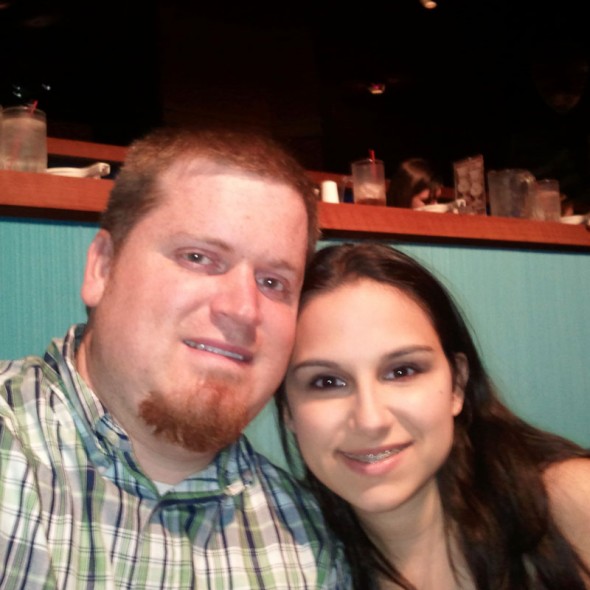 Essentially it's a dinner and a show about King Aurthur and the Knights of the Round Table. With Merlin, a court Jester and the Black knight. There's singing and dancing and jousting involved. The dining area is divided up into countries, since the show heavily involves the audience; the idea is that you cheer on your knight who's the king of the country you're sitting in.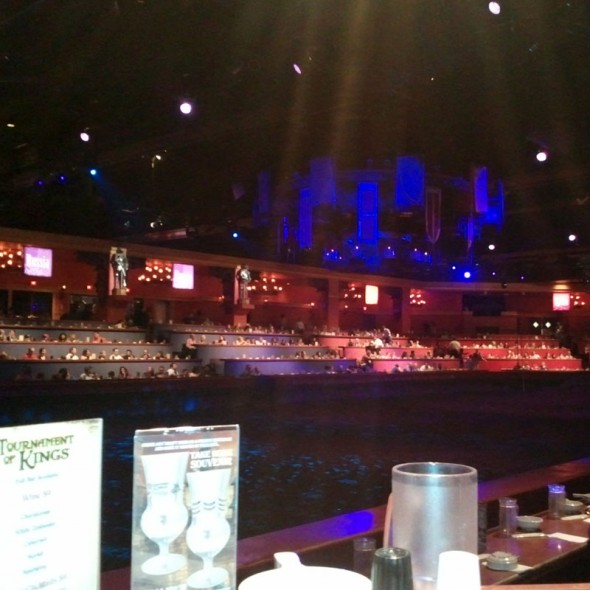 So, we got seated in France, which wasn't all that thrilling for us since, Jeff has a dislike for the French language.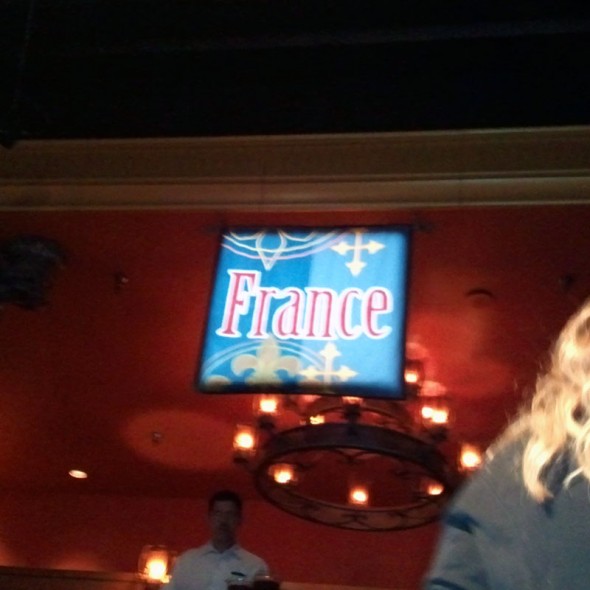 So, the dinner was pretty awesome. It was a 3 course meal, and you don't get utensils to eat with. So the soup -which was a tomato basil soup- is in a bowl with a handle that you drink out of. The main course was AWESOME. It was a small Gaming Hen with some small baked potatoes and some broccoli. It was a TON of food, I was not able to finish it. Dessert was kind of a letdown afterwards, since it was a limpy apple strudel thing. Overall the meal was great, and the show was AMAZING. We were okay with sitting in France, since he won the tournament! We totally were engaged in the show.. cheering, booing and clapping all at the right places. I also got lucky and was able to get my picture taken with one of the handsome actors that played one of the kings.. I forgot which country.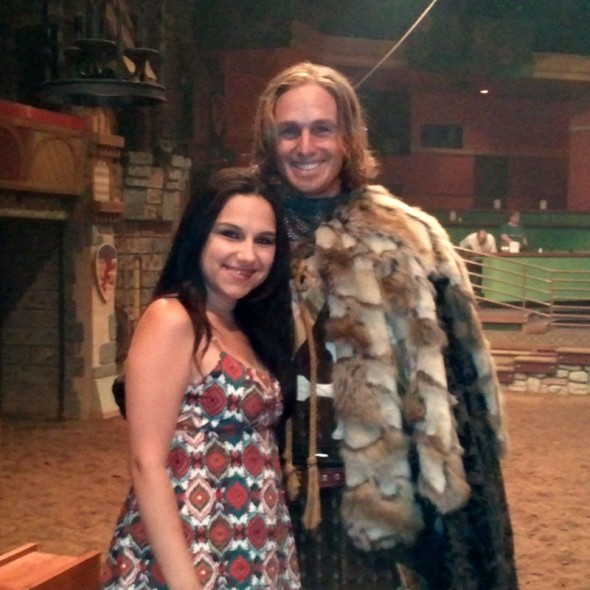 So, after this, we had to quickly skedaddle back to our hotel, because we got tickets to another show called "Fantasy: The Strip's Biggest Tease". It's a show of more topless dancers, and it also features a really amazing singer named Lorena-she kept her top on- and then an AWESOME comedian named Sean E. Cooper! He was downright hilarious. There was this guy in the front row who got pulled up onto the stage by the singer, and they made him put on this crazy wig, belt, cape and gave him a guitar to do an Elvis impersonation. The funniest thing about it is that his name was Pepe and he was from Sweden.. and he was the focus of Sean's jokes several times. Yes the comedy was a bit raunchy when there's topless women involved what else can you do you expect- but it was still within a certain level of tastefulness. I've read about another comedian's show where he just went over the top from being funny to flat out offensive, and Sean never did that; it was great.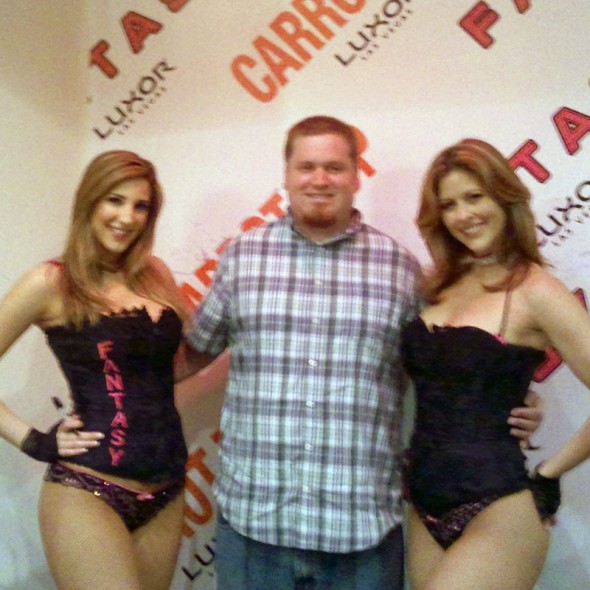 I felt so short and stumpy next to the dancers. That and out of shape.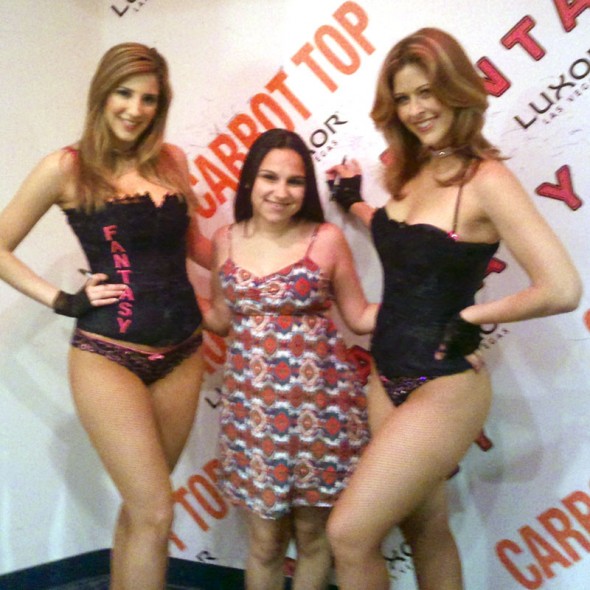 This was actually my first show involving a comedian, so we took pictures with Sean too.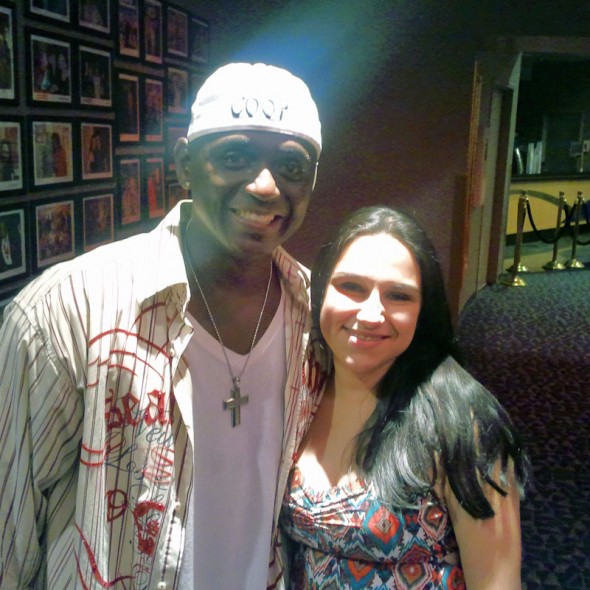 And Jeff with Sean.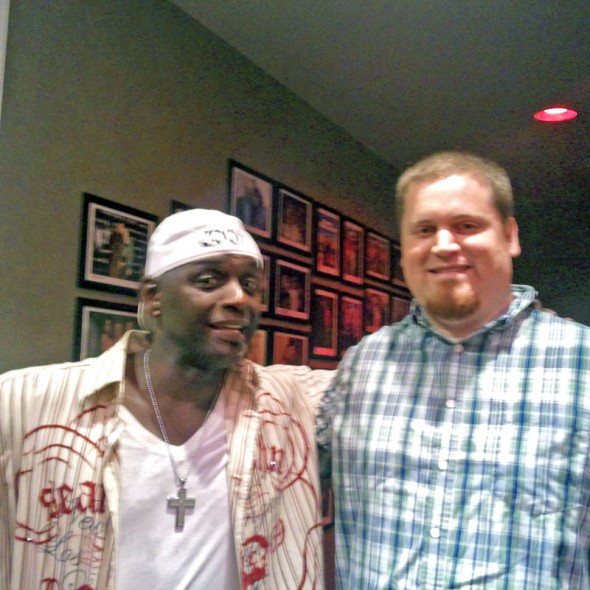 And then after the show we called it a night. Mostly due to Jeff's foot. That pretty much sums up our Sunday in Vegas!
I feel like I need to address something really quickly. I know some people may find the fact that we saw two shows in Vegas that involved topless women offensive; however Jeff and I do not share most people's attitude of nudity. I realize that this may not mesh well, but I can assure you that we have a healthy respect for ourselves and each other, and due to the fact it was a mutual decision to see these shows and we saw them together, there was no ill feelings involved towards each other.