Ruthie had her two month checkup this past Saturday, and she also got her vaccines, which did not make her very happy. Although after two doses -not at the same time of course- of baby tylenol she was happy and her fever went down. Anyway,I made this cute little poster to commemorate her two month day and also to show how big she's gotten!!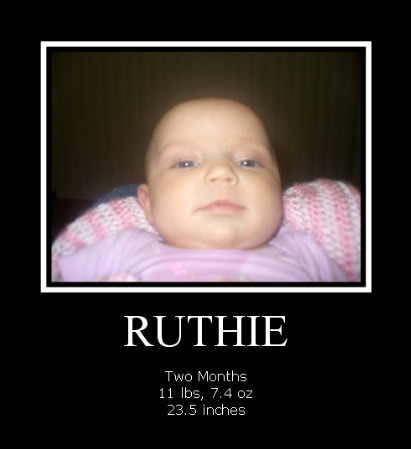 Just letting you know, she was 7 lbs 12 oz and was still 20 inches long at her two week checkup. She's grown so much since then, it's amazing! Since then, she's gained 3 lbs, 12 oz and she's grown 3.5 inches! That's alot of growth in -approximately- 6 weeks!
Anyways, nothing new on the home front. We did get the girls' pictures done in a studio, which was a whole comical 1.5 hours. We got them done as a Mother's Day gift for my MIL with their 5 cousins, and then for my Mom we got them done by themselves, seeing how they are her only two grandbabies. I think it went really well actually. I can't wait to get them back, and we can buy picture frames and start putting more pictures on the walls.