I love to scrapbook. It's an enjoyable past time and since we no longer have DirecTV, I've found myself having more times to scrapbook. I'm also planning to get into card making as well, so I've contacted a representative of a scrap booking company to become my rep.
Anyway, my new favorite thing to use while scrapbooking is… a CRICUT MACHINE! In case you haven't heard of a Cricut machine, it's a die-cut machine that uses cartridges -think of old school Nintendo- and a little keypad… you key in what you want to cut, load it up and then presto! You've got yourself shapes. Here's a brief video on what it is.

It's not the best video quality in the world but you get the idea. Anyway, I've joined the Cricut Message boards and have gotten a TON of ideas on how to expand my scrapbooking skills and layouts. I recently participated in a "Out of Your Comfort Zone Challenge" and I'm so pleased with the result! The challenge was to pick one of two 2-page layouts and duplicate it as much as possible. I chose the second one; you can see the original sketch by the person who came up with it HERE. For obvious reasons, I can't post the actual sketch, but you'll see what it is. However, the challenge was changed a bit, in order to incorporate other things besides pictures, we were told to use Cricut cutouts, embellishments or whatever else. Anyway, here's my challenge, and what I did with it!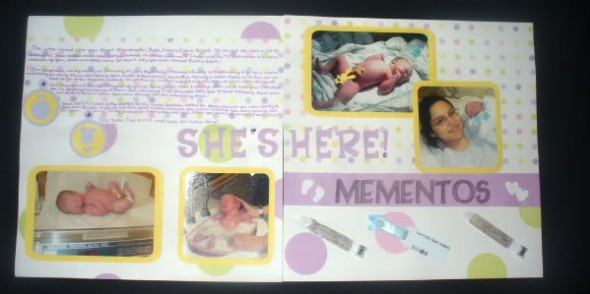 This was a challenge for me for several reasons.
I do NOT like to journal in my own handwriting. Being left-handed, I have an extremely difficult time writing straight, and my printing kind of gets messy after writing for a long period of time. With this, I wrote in cursive, and took my time. It took me over 20 minutes to script that down, since I was trying to be neat and careful. I even went to dictionary.com to check my spelling when I was unsure of how to spell certain words. Nothing like misspelling words for posterity.. you'll get laughed at!
I have never attempted to do a two page layout before in my entire life! Way crazy but true! I think for my first honest attempt it came out rather well.
Anyway, since the picture is kind of small and you're probably wondering what it's all about, here goes! In a semi organized fashion.
The journaling reads:
You were named after your Great-Grandmother Ruth Francis Deans Hayford. We changed the name a bit by adding "ie". Your middle name was picked because it starts with an "E" and ends with an "h" and is not a variation of your sister's middle name. So that's why you were named Ruthie Edith!
You surprised us by coming on February 9th, five days early! Mommy & Daddy were planning to go see a movie and eating an early dinner after taking your sister to Grandma's house. But, Mommy's water broke at 12:15p, so we had to go to the hospital instead. We got there at 12:45pm, ad go into our room at 1:00pm. Then, around 3pm, Grandma & Grandpa Hayford along with Aunt Shayla came & waited with us to meet you! I decided to have an epidural at around 5:30 pm. Then at around 7:30, Grandpa took Zoe to Aunt Melissa's house, since we didn't know when you were coming, and she was getting bored.
Then at 8:15, I was fully dilated, so the nurse Gretchen called the doctor because you were ready to come out! Doctor England got there just in time, because you weren't waiting, you were coming out on your own! I only pushed for 10 minutes, and after 3 tries, you came out into the world at 8:34pm!
You were 7lbs 6.2oz and was 20 inches long!
The first picture on the first page is Ruthie being weighed on the scale, it shows that she was 7 pounds, 6.2 ounces. It's also pretty obvious that she's angry. The next picture is her having her first bath, and she was bathed by the nurse. I love this picture because her toes are floating in the water, and she seems to be enjoying her bath. Even now she LOVES to get baths!
The first picture on the second page was taken within minutes of being born, she was put under the warmer and had her APGAR scores taken.. first an 8 and then a 9.. just like Zoe. I think she was adapting to the outside environment and wasn't too horribly upset. And of course for her modesty, I put the little bunny over her girl parts! Thanks to my friend Nay for the suggestion! Then of course, the second picture on the page is of the two of us together in a picture for the first time. I don't look too terrible for giving birth, or at least I'd like to think I don't look terrible!
And then under where it says Mementos are the anklets she wore in the hospital. Unfortunately, I lost other things, so at the moment, these are the only things I have from the hospital of hers.
I feel that scrapbooking is a very useful hobby… because not only are you capturing every little moment, you're also recording your personal and family history. Even for those who don't have time to scrapbook, it's at least good to keep a journal and then insert pictures in that.. because scrapbooking is journaling, using pictures more than words.
This challenge has encouraged me to journal in my scrapbooks more in my own handwriting. If I take the time and have patience for myself it'll be great!